Regular price
$42.62 USD
Sale price
$21.28 USD
Unit price
per
Sale
Sold out
Unleash your child's boundless creativity and nurture their critical thinking skills with CreativeStack®!
Are you unsatisfied in your search for an innovative solution for your playtime? The answer lies in CreativeStack®, the magnetic wonder that goes beyond mere play to stimulate imagination and skill development without limits.
Unleash creative brilliance
CreativeStack® redefines play with its revolutionary Tetris-inspired design and spectrum of vibrant colors. Experience the thrill of watching your child create living worlds and defy conventional building norms. These magnetic marvels are not just building blocks, they are the building blocks of innovation and imaginative wonder.
Build brains, develop skills
Prepare your child for cognitive excellence with CreativeStack®. Watch your child grasp colors and shapes and develop an imagination as limitless as the cosmos. Every interaction refines fine motor skills and encourages dexterity and precision. Problem solving evolves from challenge to conquest as children explore the intricacies of design and structure.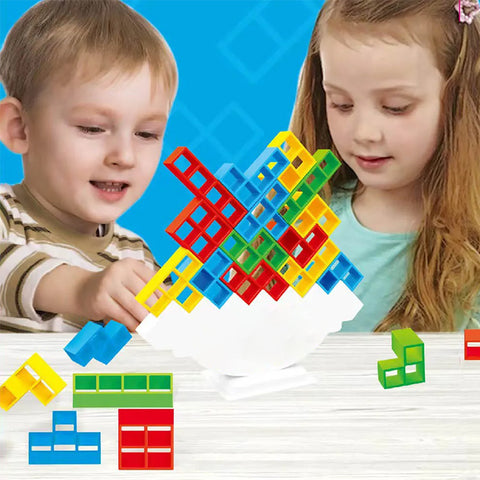 Cooperation, connection, coordination
CreativeStack® thrives in togetherness. With its 16 pieces designed for two players, it transforms play into a cooperative endeavor. Kids make connections, practice hand-eye coordination and balance through shared Tetris successes. Social skills blossom in the joyful symphony of creation.
Due to the summer discount, the stock is very limited. Order TODAY and enjoy 50% DISCOUNT and free shipping.

View full details
More than 10,000 satisfied customers
Anne T. ★★★★★

Definitely worth the investment. I am really happy with my purchase. Thank you!!! Your company really stands and stands behind your product 100%.

Olga P. ★★★★★

At first, I was hesitant to buy this product. I thought it wouldn't necessarily be useful for me. As I used it more and more, I adopted it! Today, I can't do without it. I recommend it with my eyes closed!

Camilla K. ★★★★★

After seeing the ad on Pinterest ads, I was immediately convinced! I have no regrets, the product is really excellent