Regular price
$49.90 USD
Sale price
$24.90 USD
Unit price
per
Sale
Sold out
JUST AMAZING!
"So amazing! I feel like I have my smile back, I can finally smile without embarrassing myself! I recommend it to everyone."
⭐️⭐️⭐️⭐️⭐️ Jenna S.

Laugh with confidence!
Do you have chipped teeth or no teeth at all? And are you looking for a simple and inexpensive solution to fill these gaps?

Our HiSmile Tooth Repair KIT will fill all the gaps in your missing teeth! Our Tooth Repair Kit helps you fill chipped teeth, large gaps, uneven teeth or missing teeth. It's an instant, reliable solution to fix any smile in minutes!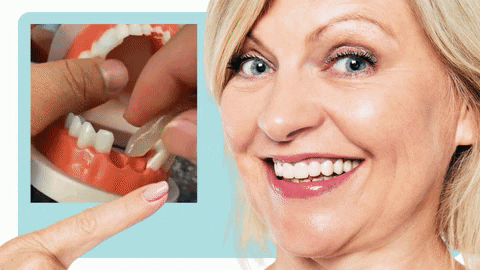 Recover your lost smile
The DIY Tooth Repair Kit is a temporary fix that allows you to smile again and eat hard foods with confidence. It is easy to use and can be done in the comfort of your own home.
Light and strong
Lightweight thermoplastic polyester that molds like clay when hot, but is a solid plastic when cooled. It can be reshaped repeatedly by simply reheating it. Stable and not easy to break or fall off.
Simple and safe to use
Made of 100% safe material. No adhesives, dental glue, special tools or equipment are needed. The shape/size can be adjusted exactly as you want it by simply placing it in boiling water for a few minutes.

Frequently Asked Questions
How long will this package last?
Depending on your teeth and the number of teeth you want restored, one pack can last up to 1.5 years.

Do I have to use the HiSmile Tooth Repair KIT every day?
No, the specially developed material guarantees long lasting results. Do you want to remove them? This is easily done with boiling water and sea salt.

Is it harmful to my teeth?
No. The HiSmile Tooth Repair KIT has been specially developed in a biological way so that the health of your teeth is not endangered.
GENERAL GUARANTEE
Not satisfied? Money back! - Many satisfied customers have preceded you in providing the latest and greatest products. We stand 100% behind our products, which is why we offer a "money back guarantee": 30 days after you receive the product, you can return it.
View full details
More than 10,000 satisfied customers
Anne T. ★★★★★

Definitely worth the investment. I am really happy with my purchase. Thank you!!! Your company really stands and stands behind your product 100%.

Olga P. ★★★★★

At first, I was hesitant to buy this product. I thought it wouldn't necessarily be useful for me. As I used it more and more, I adopted it! Today, I can't do without it. I recommend it with my eyes closed!

Camilla K. ★★★★★

After seeing the ad on Pinterest ads, I was immediately convinced! I have no regrets, the product is really excellent